Home of the Test Track featured on Amazon Prime's Grand Tour! This technical circuit will test your driving skills behind the wheel on one of our supercar driving experience track days
01509 892260
helpinfo@everymanracing.co.uk
Great Tew Circuit
B4022
Chipping Norton
OX7 4NS
Driving Experiences available at Great Tew Circuit
This circuit allows juniors to drive. All kids dream of driving and now it's your chance to make that dream a reality! Available to 11-17 year olds this is the perfect present for a special occasion or for something to do at the weekend or in the school holidays!
Always wanted to try your hand at driving a HGV? Now's your chance at this venue!
Shred up the mud at this track with Rage Cart and Rally Driving experiences. Fast, muddy, and unbelievably fun!
There's nothing more satisfying than guiding a 4×4 through a muddy track and making it out the other side. Try your hand at this technical skill at this venue.
Test your nerve and balance on the world's most popular form of two-wheeled transport. Bring your friends for a Segway adventure at this venue.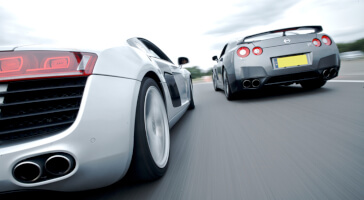 The circuit has a number of formations, founded on a basic one-mile oval, with the majority of configurations including the northerly extension to the tight, 180° Shaw's Hairpin. At the other end of the circuit lies the long right-hand Gerard's Bend. Gerard's is about a third of a mile long and turns through nearly 200°. It was named after local racing hero Bob Gerard, who opened the newly reconstructed circuit on 25 April 1956. Unusually, there are a number of large lakes occupying approximately half of the circuit infield.
The technical and winding course presents an exciting challenge for those behind the wheel of high-powered supercars, such as the ones in our supercar driving experience days.