The layout of the track is designed to put the car through various conditions, having a fantastic range of low and high speed corners combined with a series of straights that will allow you to enjoy a modern day supercar.
Additional Information::
Dunsfold Aerodrome was built by the Canadian Army and civilian contractors as a Class A bomber airfield for Army Co-operation Command. It was commanded by the Royal Canadian Air Force from 1942–1944 and was known as Royal Canadian Air Force Station Dunsfold. Under RAF control it was RAF Dunsfold. Post war it was used by Hawker Siddeley and then its successor British Aerospace. This is now the site of the BBC show Top Gear; the runway is now a racetrack or a "test track".       
 To Access the circuit carpark please use postcode GU6 8HY.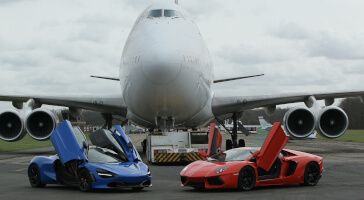 Cars Available at Dunsfold Aerodrome