Ariel Driving Experiences
One of the quickest, road legal, open-wheel cars available to the public. Built in Somerset, England, there have been 8 generations of the Ariel Atom. With 315hp and a 612kg curb weight, the Atom can reach up to 155 mph and blast up to 60mph in just 2.7 seconds.
This is one the rawest, fastest and most exhilarating experiences you can have on a track. Drive an Ariel Atom in one of our supercar or Ariel Atom Driving Experiences, or have one of our trained racing drivers take you for a hot lap in a ride you'll never forget!
Our Ariel Driving Experiences



Ariel
Atom
Originally launched in the 1990s, the Ariel Atom is now an established motoring icon, turning heads both for its looks and the fact it is as exhilarating a car as you could wish to drive. Today, the range extends from the 245bhp base model of the car. Without exception, each model offers a uniquely thrilling driving experience that is, as its best, unmatched for thrills and rawness this side of a superbike. Select your experience here
Top Speed

145 m.p.h.

Power

245

0-60 Time

3.1 seconds
Engine Size

2.0 litres

Drivetrain

RWD

Cylinders

4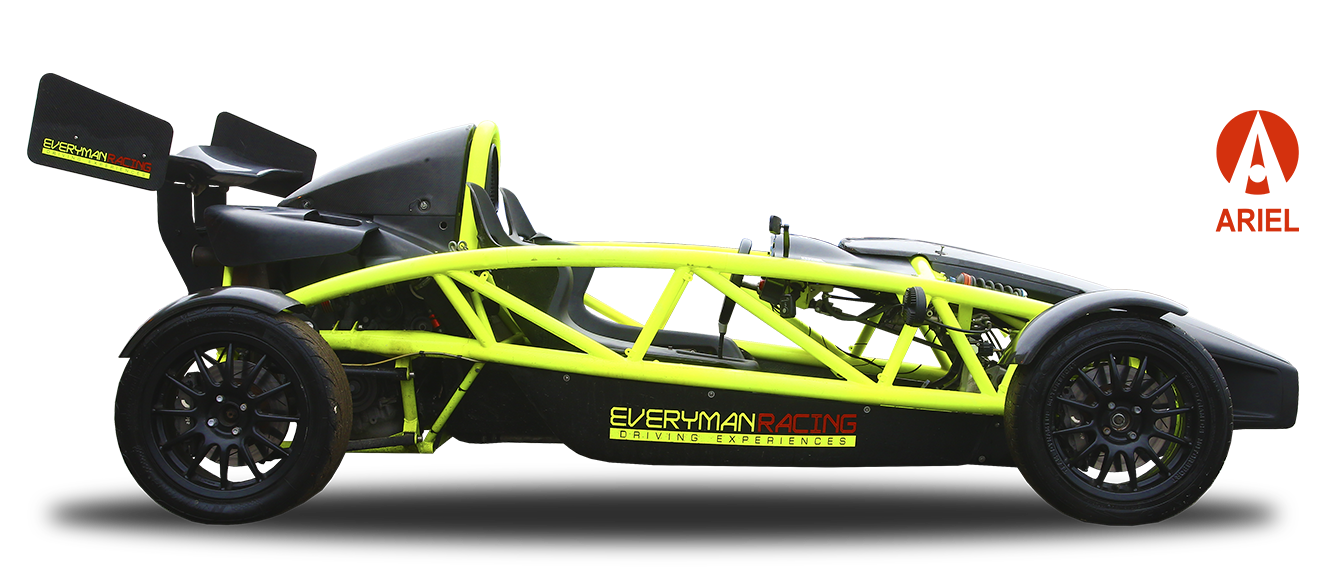 Ariel
Atom 310 Supercharged
Jackson Racing, a renowned Honda tuning company based in California, has been perfecting its craft for over two decades. Their expertise in the American import drag-racing scene primarily revolves around their highly acclaimed and extensively tested superchargers. Therefore, when Simon Saunders, the head of Ariel, sought to enhance the speed of his Honda Type-R-engined Atom track car, he naturally turned to Jackson Racing. The outcome of their collaboration is the all-new supercharged Atom, boasting an impressive power output of 300bhp at 8200rpm, a substantial increase from its original 220bhp. Additionally, the torque has been boosted from 144lb ft at 6100rpm to 191lb ft at 7150rpm. Weighing in at a mere 460kg without fuel, this latest iteration of the Atom is bound to deliver an exhilarating performance on the track. The hairs on the back of your neck will stand up as the noise of the supercharger kicks in. This Supercharged Atom is one of the Instructors favourite cars we own. View experiences here
Top Speed

155 m.p.h.

Power

310

0-60 Time

2.7 seconds
Engine Size

2.0 litres

Drivetrain

RWD

Cylinders

4

Ariel
Atom Cup
Originally launched in the 1990s, the Atom Cup is now an established motoring icon, turning heads both for its looks and the fact it is as exhilarating a car as you could wish to drive. Today, the range extends from the 245bhp base model of the car. Without exception, each model offers a uniquely thrilling driving experience that is, as its best, unmatched for thrills and rawness this side of a superbike. Select your experience here
Top Speed

145 m.p.h.

Power

245

0-60 Time

3.1 seconds
Engine Size

2.0 litres

Drivetrain

RWD

Cylinders

4